Your Ticket To Being "In the Know"
Please take a moment to browse the FAQs and our Trip Policy in order to clear up any questions you may have prior to your trip with us. If you can not find the answers you are looking for then please reach out to us and we will get back to you promptly.
DO I NEED MY OWN FISHING ROD / GEAR?
While you are welcome to bring your own rod and tackle it is not necessary. We will supply all of the gear you need to be a productive and successful angler. We can always guarantee the fishing will be good, the catching, on the other hand, has many more factors involved! See our policy section for more information in regards to bringing your own gear. New this year, we are supplying the Ugly Stick Big water fishing rods equipped with a Penn Warfare fishing reel (gear ratio of 5.1 : 1 for quick retrieval in the deep water).
WHAT TIME DO I NEED TO ARRIVE FOR DEPARTURE?
We will board passengers as soon as the boat has the necessary provisions / gear and also have a minimum crew aboard to safely direct passengers. We strongly advise you leave ample travel time to arrive and recommend that you are situated on the vessel no later than 30 minutes prior to the scheduled departure. We will often leave a few moments early if all passengers are accounted for but we will not reduce the experience for those aboard by delaying departure for late anglers. For example; a 7am trip means the boat will no longer be attached to the pier at 7:01!
PRO TIP: When using GPS to find us, load the following business Hampton Harbor Tackle Shop for the best results.
WHAT SHOULD I BRING FOR MY TRIP?
We always recommend that you bring proper attire for potential weather; ie.. rain coats, sweatshirts or jackets relative to the season. We highly discourage open toed footwear due to many potential hazards such as, but not limited to, hooks, knives, and fish with sharp teeth. You can bring food and non alcoholic drinks. Please review the policy section below in regards to alcohol.
WILL THE TRIP TAKE PLACE IF THE WEATHER IS BAD?
There are generally no cancellations for foul weather if the conditions are safe for travel. The captain continuously monitors the marine forecast and communicates with other fisherman to ensure a safe trip.  This does mean that a wet, rainy and slightly bumpy day on the ocean is still a go for the fishing excursion. If the weather outside of the harbor is extreme and would make for a detrimental fishing experience the trip will be called off and rain checks will be issued. See more information in the policy section below.
WHAT HAPPENS IF I GET SEA SICK?
Unfortunately, we will not turn the boat around for sea sickness. The only potential way we would abandon the trip is the instance whereby everyone is sick and asking to return. With that being said, if you are not a seasoned sailor then we recommend that you take advantage of the many options to prevent sea sickness prior to leaving the dock. Dramamine is the most common preventative but there are other options out there as well. If you are concerned with becoming sick, we recommend delaying your breakfast until we are underway to give your body time to adjust to the motion of the ocean.
WHAT IF I CATCH SOME FISH, I MEAN LIKE... WHAT DO I DO WITH THEM?
If you are on a vacation and do not plan to take any fish home you can feel free to give your fish to fellow anglers or return them to the sea for future fisherman. If you do land a decent catch which you plan to bring home, our crew will clean (fillet) your catch and provide you a bag to return home with them. The only step left for you is to decide the recipe. Please keep in mind the service the deckhands provide and tip accordingly.
WEATHER, DEPARTURE/ARRIVAL, FOOD & ALCOHOL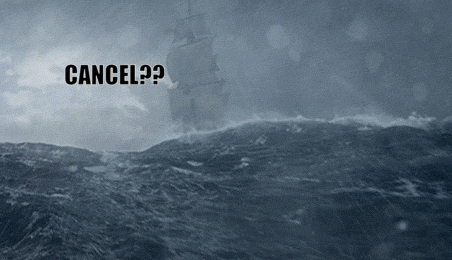 ​
The ALL IN is a 65 foot, twin diesel, dual-prop, all-weather recreational fishing vessel. The vessel is capable of handling most of what mother nature intends upon throwing her way. If there are people willing to go fishing and the sea state is safe we will leave the dock. The captain consistently monitors the marine weather forecast and also communicates heavily with other fishing vessels in order to gather the most up to the minute information in order to make an informed decision on cancellation.
We strongly encourage passengers to dress accordingly and to be prepared for any potential weather. We strongly advise bringing the following items as necessary: sunscreen, hats, rain jackets, extra layers, and above all close toed footwear.
Departure - The boat will not delay departure for late anglers. Unfortunately there is no "being late' for a boat. Many deckhands have discovered this at least once in their careers while being left at the pier. On a positive note, if all passengers are accounted for early we may leave to get a jump on the early morning bite.
Arrival - Please understand that the ocean is not entirely predictable so the scheduled arrival time is not always predictable. Sea conditions and or a late bite may cause us to arrive a few minutes after the scheduled return.
Food - The ALL IN has a full service galley located within the main cabin. On most trips we are generally stocked with hot dogs, chips, candy, soda and beer. On full day or marathon trips we strive to offer additional crockpot items such as pulled pork sandwiches, tacos, or even the occasional fish chowder made from the first keeper of the day!
​
Alcohol - In order to serve alcohol, the vessel must carry an alcohol permit which precludes passengers from bringing their own alcohol. If there is something your group would like us to purchase/stock you can always contact the Captain in advance and we will make a solid attempt to cater to special requests. The mates may inspect all coolers and bags as you load the boat in order to give you an opportunity to return alcohol to your vehicles. Alcohol discovered aboard after departure will be confiscated.
Our main mission is to put each angler in the best possible scenario to 'limit out" for each member of your party. We supply time tested and traditional means of fishing tackle as part of your adventure with us. We do supply each angler with fishing rod rentals equipped for bait fishing. Our first sinker policy means that we will replace your first sinker for free. After that a 3$ charge will be collected due to the high price of lead (3$/lb.). Jigs / artificial lures, are available for rent if you want to give it a go. We generally try and maximize each anglers chances by setting rods up with a double hook rig. In the event we run into strong tides or dogfish (sand sharks) we may elect to limit the use of single hook rigs to reduce the chaos of extreme tangles. For those that bring their own gear, we fully support your decision to use any and all gear you have brought with you. If tides and dogfish become problematic we may request that you alter your gear to minimize the potential for tangling and the chaos that ensues. For example the use of light tackle in depths over 150 feet will ultimately be problematic in keeping your line on the bottom where the fish are. We do highly discourage the use of attractants (anise etc..) for this type of recreational fishing as it can severely attract dogfish. If you have any questions feel free to reach out and we will give you the best advice available.